STRONGER, MORE POWERFUL AND HIGHER PERFORMANCE  7250 TTV TRACTORS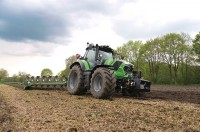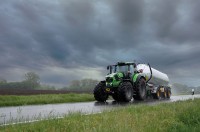 Developed and manufactured at the state of the art Deutz-Fahr factory in Lauingin, Germany, the new the 7 Series stands out for its superior reliability and comfort, as well as for even lower fuel and operating costs, thanks in part to the engine oil change interval, now set at an incredible 1000 hours.
The new 7250 TTV is now available in two versions, 7250TTV and 7250TTV HD. Its redesigned and more streamlined hood, associated with the raised cabin, ensures excellent visibility. The tractor now offers even more comfort and a higher pulling force. Under the hood is an updated six-cylinder block, delivering up to 247 Hp and generating a maximum torque of 1,072 Nm. This engine meets the Stage V standard. It drives through a continuously variable SDF COMPOUND TTV transmission, the latest generation in-house design inspired by that of its big brother, the 8 Series. It combines two hydrostatic units coupled with mechanical components. The new transmission will guarantee a high mechanical power flow, at low as well as at high speed. This transmission makes it possible to travel at 60 km / h at less than 1,800 rpm and 40 km / h at less than 1,200 rpm.